Are you held up in a state of dilemma, trying to figure out the best ski goggles for you? Now, it might turn out to be quite tricky since they come in different styles, lenses, shapes, and colors. And maybe you are battling white outs, flat lights or you may be used to skiing in bluebird skies.
Ski goggles offer a perfect solution to the challenges you may be going through, as a matter of fact, they have becomes a must have any skiing activity. After going through the obsession of finding the best ski goggles, we have taken into account several brands available on the market today. We're obliged to present the top 10 best ski goggles in 2022.
Factors to Consider Before Buying Ski Goggles
What is right and appealing to you might not necessarily be the best for the other person. However, there are some common factors that you need to consider while deciding the best ski goggles for you. As a guidance, you must ensure that the following factors act positively in regards to your needs.
· Fit
Since you're going to wear the goggles for long hours, they must be comfortable. Also, they must not pinch, slide or impair your peripheral vision. You're going to encounter small, medium and oversized goggles. For the ski goggles, they need to be oversized to increase the field of view. Apart from enhancing the field of vision, there shouldn't be any gap between foam padding and your face. Snug fitting without pressure points is what you should consider. Adjustability features in goggles will enhance a snug fit.
· Tint on the lens
Certain tints are best suited for various environments. Though brands have different features, yellow, pink and blue colors are best during flat days. Dark tint is best during sunny days. However, if you ski in a variety of conditions, it is advisable to buy photo- chromatic lenses. These are uniquely constructed lenses which get darker as the UV radiations increase.
· Polarization
The essence of having a polarization in your goggles is to reduce glare. This factor enables one to see especially on sunny days. Glare tends to distort color and increase chances of causing temporary blindness. No one would want that, and that's why polarization is an important feature.
· Warmth
You might probably get a face freeze on the ski lift without knowing the cause. Your goggles might be too ventilated. Well ventilated goggles are less foggy but tend to be too frigid. So, something with more vents is an ideal if you are skiing in bright sunlight. Less ventilated is ideal if the temperatures of the surrounding are freezing.
· Lens interchangeability
Many goggles frames allow interchange of lenses for different conditions. The merit of this is that it works out cheaper than buying a new set of glasses for different settings. If you decide to use fixed lens goggles pair, you must ensure that it's perfect for the riding you'll be doing mostly.
10. Spherion Gear Ski Goggles with a Detachable Amber Lens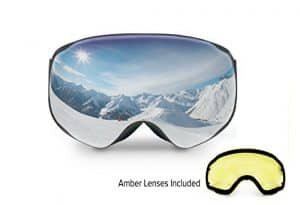 These are high-performance ski goggles that are uniquely designed for perfect vision in low light conditions. They are also ideal for nighttime skiing or when the conditions are wanting. They offer great peripheral vision, reduce goggle gap and the planned curvature virtually removes all the glare. Thanks to the high endurance lens.
These glasses boast an oversized double polycarbonate design that enhances total minimal distortion to maximize visibility needed during skiing. Furthermore, these glasses feature a coating with anti-reflective properties and UV400 protected. They are ultra-light and weigh just 4 ounces. Besides, they are perfectly compatible with all helmets, and the silicone beading keeps them in place.
Pros:
Premium facial padding
Perfect for all light conditions
Frameless design offers a perfect fit
Includes an amber lens
Cons:
Doesn't support quick swapping
9. Sliiq EDGE Snow/Ski Goggles with Anti Fog Vented Double Lens
Sliiq Edge ski goggles are versatile goggles that perform excellently in all weather conditions. The mirrored anti-glare spherical lens with properties of between 18 to 43 percent and 100 percent UV protection ensures that your eyes are always protected. It provides visual clarity in all conditions. The fog proof technology and the outstanding ventilation technology work together to ensure the vision is clear and fog free.
For a comfortable fit, these glasses feature a triple layer of breathable face foam padding that enhances a comfortable and tight seal on your face, for an all-day comfort. Durability is perfect, and these goggles will serve you for a long time, thanks to the durable polycarbonate material of construction. This material is scratch resistant and are the best for skiing since they will resist wear and tear.
Pros:
Sleek style
Comfortable fit
Attractive color and design
Includes a microfiber carrying case
Cons:
Higher price than competitive brands
8. Feier Yusi Professional Adult Ski Goggles
These Are 100 percent brand new ski goggles that feature an innovative technology. They are high-quality PC goggles made of durable ABS plastic which and possess anti-fog properties. For a comfortable fit, these glasses feature a soft sponge cushioning. They are not only great for skiing but water sports too. The lenses are incredibly strong and share the characteristics of optical with anti-glare properties.
The high-quality exhaust frame boats high-quality TPU material which is high tensile and have anti-going properties. The flow vent technology is characterized by the five vent guide slot which enhances proper ventilation, which in turn prevents fogging. For a superior comfortable fit, these glasses feature an adjustable strap to enable the goggles to fit different head sizes. Additionally, the goggles are suitable for multi-purpose usage. Therefore, they are ideal for cycling, kite surfing, skiing and other outdoor sports.
Pros:
Combines anti – fog and anti UV PROPERTIES to give you the best
Stylish and comfortable design
Provides sharp vision and great peripheral vision
Unisex match
Cons:
7. YAKAON Ski Goggles Y Series Snowboard Frameless
Innovation at its best is what Yakaon ski goggles prove. It features eight spots magnets which hold the lens tightly and enhance easy cleaning and replacement. It supports a total of 17 lenses included in the package. This allows you to make your combination. The featured dual lens of this pair of ski goggles is made of durable PC material which has a special coating that provides anti – fogging UV400 resistance properties.
On the other hand, the thickened foam padding provides comfort and safety. It keeps the face entirely warm, and anti-wind protects you against any wind penetration into your eyes. The strong PC lens is impact resistant and therefore serves you for a long time. Compatibility with different styles of the helmet is great, and you wouldn't struggle to match them whatsoever. Besides, the goggles fit snugly, thanks to the adjustable strap for the skiers who need to combine helmet and face mask.
Pros:
Great for night skiing
Comfortable foam pad
Magnetic snap system allows fast lens interchangeability
Attractive style and color
Cons:
Sometimes it gets foggy, though not that fast
6. Oakley Canopy Skiing Goggles
Oakley canopy ski glasses are built with unique technology to allow you have fun while your eyes are protected. Also, they enhance your style and take the skiing skills to another level. The flexible O Matter frame features specially designed arches that conform to the face for an optimized look and fit.
The discreet notches at the temples enhance the compatibility with prescription glasses without affecting the comfortable fit. Fog formation isn't a preposition with these ski glasses as the lenses boats f3 anti-fog coating for maximum fog elimination. To maximize contrast, these glasses feature prism lenses. Other features of the lens are high definition optics and superior protection against all UV rays.
Pros:
Excellent prism lens
Fits most helmets
Anti-fog and UV protection properties
High definition optics
Cons:
Pricier than some snow glasses
5. Smith Optics Scope Snow Goggles, Unisex
Smith optics ski goggles use a dual lens with the passive ventilation system. This innovative technology reduces the moisture build up and thereby reduces fogging to allow clear vision. Besides, the lens is X fog based so that you can see on the slopes. It comes in a medium fit which is adjustable to fit various sizes. Thanks to the silicone backed strap which is fully adjustable to allow a snug fit. Indeed, the urethane foam is soft so that it molds to your face without causing any discomfort. All these top rated features qualify these glasses as a must have accessory for skiing and snowboarding.
Thanks to the silicone backed strap which is fully adjustable to allow a snug fit. Indeed, the urethane foam is soft so that it molds to your face without causing any discomfort. All these top rated features qualify these glasses as a must have accessory for skiing and snowboarding.
Pros:
Provides super-clear vision in all weather conditions
Super cool and comfortable fit
Fashionable design and color variety
Compatible with masks and helmets of various kinds
Cheap price
Cons:
Not great for extremely sunny days
4. ZIONOR Lagopus Ski X4 Snowboard Goggles
Enjoy high performance and anti-fogging properties of Zionor Lagopus snow glasses. It cuts100 percent glare and protects the eyes against all forms of UV radiations. It applies the magnetic lens swapping technology which features eight spots to hold the lens tight in place and allow easy interchangeability of the lens. The total of 17 lenses available for this goggles allows a perfect combination.
The design also provides a spherical ultra-wide view and a smooth venting system. This construction offers 180 degrees view and superior clarity as there is less visual interference. The strong PC lens has an incredible impact resistance, and the frame is sturdy to protect your eyes when accidents happen ultimately. On the other hand, the strap is extra-long and flexible to ensure the goggles fit snugly. The strap also makes it easy for wearing helmet and facemask.
Pros:
Suits all light conditions
The strap is super elastic to cover various head sizes
Impact resistant lenses
Sturdy frame
Cons:
Their thickness reduces peripheral vision
3. Bolle Carve Ski/Snow Goggles
Are you looking for the best ski goggles to use on a daily basis? Bolle Carve has the answer. It features a ventilated design with anti-scratch and anti- fog treatment to allow you enjoy to the fullest in any day out on the peaks. The technologies playing the role include the embedded anti-fog layer, a high protective armor on the outer lens, dual pane thermal barrier and engineered venting system. The results speak for themselves. You will enjoy greater visual clearance, wider peripheral vision, anti-fogging and reduced moisture build up which in turn maintains a pristine vision.
Pros:
Affordable price
Patented innovative engineering
Crisp lens for excellent vision
Keeps the upper part of the face warm
Cons:
Not 100 percent efficient in reducing fogging
2. Outdoor Master PRO Ski Goggles Frameless and Interchangeable Lens
At such an admirable rank in this review, Outdoor master ski goggles prove that is isn't here by chance. It features impressive designs that enhance style as well as ultimate protection to your eyes for a remarkable skiing performance. Depending on the weather conditions that you encounter, you can interchange the lenses to fit your situation perfectly.
Moreover, the glasses are anti-fog coated and filter out harmful UV rays. The over glass design usually referred to as OTG lets you wear the goggles over your glasses. Also, by being helmet compatible, these goggles fit well, and the long and elastic strap enhances a comfortable fit. The package includes a carrying case, and pouch for proper storage.
Pros:
Anti-scratch lens construction
Adjustable strap for a comfortable fit
100 percent protective against UV rays
Includes various kinds of lens for different weather conditions
Strong magnets
Cons:
Possible packaging errors but the goggles remain unbeatable
1. JULI Eyewear Winter sports Ski Goggles
Juli ski goggles are among the top rated and best sellers as far as ski goggles are concerned. With its detachable lens, you can choose to use any of the spare lenses that match your favorite color and VLTs. These lenses enhance personal suit and preference as well as taking care of different weather conditions.
The excellent ventilation system and frameless design optimize air flow, hence brings in fresh air while exhausting moisture quickly and efficiently. And the large and spherical design allows a clear and unobstructed view. Compatibility with prescription glasses and helmets is great and therefore lets you ski safely and comfortably with the necessary gears.
Pros:
Anti-fogging properties
Reasonably priced
Great color variation among the available lenses
Nice adjustment features
Cons:
Durability is questionable but can at least last for two to three seasons
Nothing should ever curtail the enjoyment that you get from outdoor sports such as skiing. But without a properly functioning ski goggles, all the efforts might end up in vain. With more than enough options on the market to choose from, you should have the best goggles that match the environment, prevailing weather and your personal preference. All the ski goggles in the review above pass the threshold. Just pick the one that seamlessly matches your needs and get to enjoy the play, more and more.
Save
Save